THE BERGMAN ESTATE IS CLOSED THROUGHOUT 2020
The Bergman Estate on Fårö Foundation regrets to inform that we will remain closed throughout the 2020 season, due to the serious global situation connected to the corona virus.
The Bergman Estate on Fårö is a Norwegian-Swedish foundation, and chooses to follow advice from both Norwegian and Swedish authorities. Since regulations such as travel restrictions and social distancing are foreseen to continue in some form throughout the summer and into autumn, the board has decided to postpone all residencies to 2021.   
All 2020 residents will be offered to postpone their stay accordingly, and will receive information by e-mail on alteration of dates to 2021 or 2022.
As for the 2021 application process, the capacity for new applicants will be significantly reduced.

If possible, we will however open a call for a limited number of residencies Oct 1st this year. Please revisit our website for updated information closer to the date.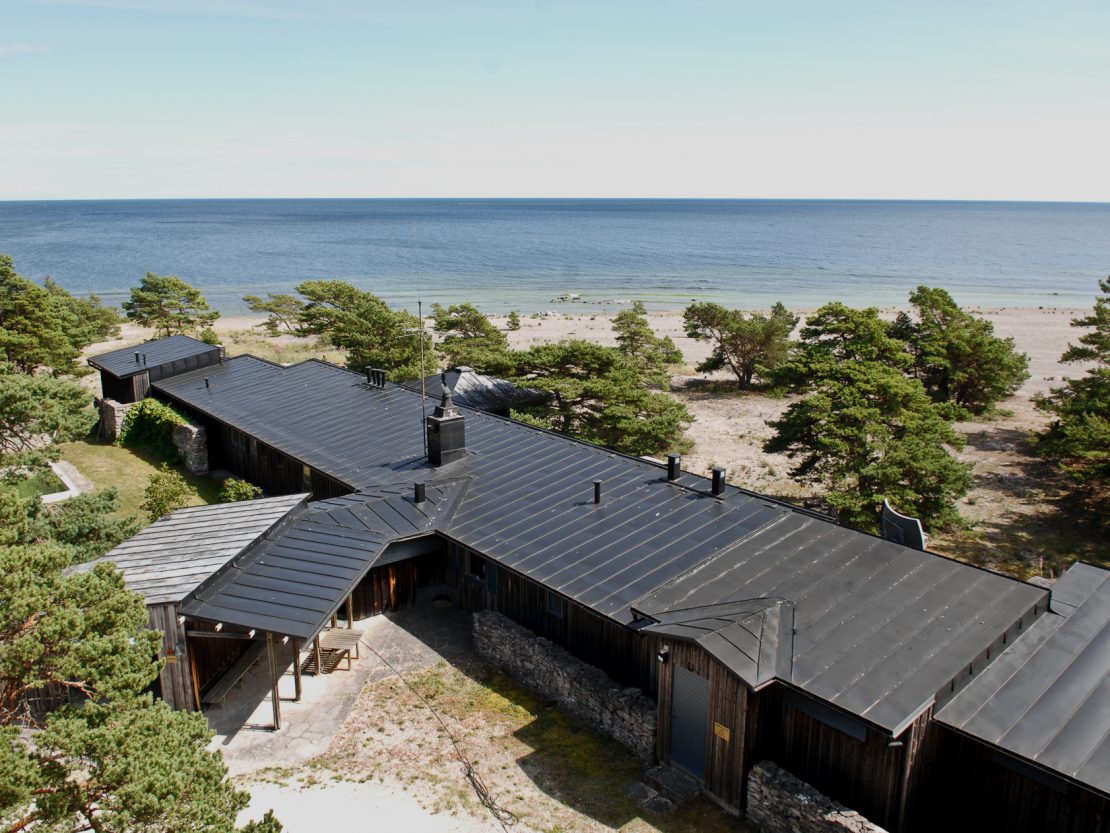 A place of work, inspiration and contemplation
The Bergman Estate on Fårö Foundation
Stiftelsen Bergmangårdarna på Fårö
Ingmar Bergman lived and worked on the island of Fårö for over 40 years. Following his death, the director imagined his home continuing to be a meeting place for people who work with music, film, photography, theater, and literature.
The Bergman Estate on Fårö invites artists as well as scholars, non-fiction writers, and journalists from all over the world to come and work at Ingmar Bergman's estate.
His houses have been preserved in their original state down to the notes on Ingmar Bergman's bedside table. The environment aims to nurture contemplative and creative work – in the same way as it inspired Ingmar Bergman's own artistic pursuits throughout forty years.
The Bergman Estate residency is open for applications between
October 1 and November 28.

Go to application ›
The Bergman Estate on Fårö consists of four houses and a cinema. The estate was expanded through the years; Ingmar Bergman viewed it as an extension and expansion of his own artistic pursuits.
The main building is located at Hammars. This house was Ingmar Bergman's private home and workspace. Hammars is open to residents between nine and five on weekdays. Residents stay in Ängen, Dämba, the Writing Lodge, or in the guest house at Hammars.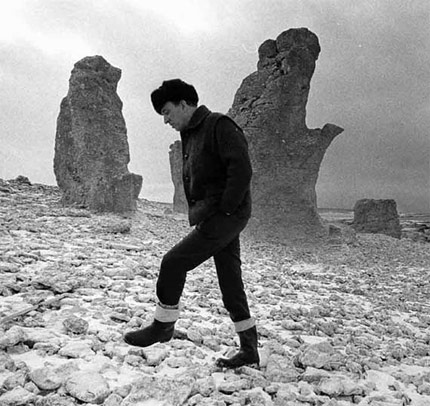 In 1960, Ingmar Bergman was about to make the movie Through a Glass Darkly, a story about four people living on a remote island. Inspired by a documentary he had watched, Bergman wanted to shoot the film on the Scottish Orkney Islands.
The Swedish film production company SF (Svensk Filmindustri) worried about excessive budgets, but Bergman could not find a setting in Sweden that could offer the atmosphere he had in mind. In a last attempt, before trying to pursuade the production company to use the Orkney Islands, Ingmar Bergman went to Fårö. He arrived on a dark and rainy night in April and immediately felt this was his landscape.
Not only did Bergman shoot Through a Glass Darkly (1960) on Fårö, the rugged and distinctive landscape of the island was to become a hallmark of films such as Persona (1966), Shame (1968), A Passion (1969), and the TV series Scenes from a Marriage (1973). In his documentaries Fårödokument (1969) and Fårödokument 1979, Bergman highlighted the depopulation of Fårö and the drastically changing economic conditions for the island's remaining population – from agriculture and fishing to tourism in the summertime.
The landscape and the people of Fårö inspired in Bergman a sense of peace, inspiration, and freedom, as well as an urge to create, work, read, and watch films (he watched two films a day in his private cinema in Dämba).
The relationship between Ingmar Bergman and the locals of Fårö was one of mutual love and respect. The director helped in various ways to preserving Fårö as a vital community, and the residents of the island made sure that he was left alone from prying tourists. For construction, refurbishing, and maintenance, Ingmar Bergman always used local experts and craftsmen, a tradition that will now be continued by the Bergman Estate on Fårö Foundation and the new owner of the property, Hans Gude Gudesen.
When Ingmar Bergman died at his home on Fårö in 2007, part of his estate included four island properties. According to his will, these were to be sold on the open market, and the proceeds divided among his nine heirs. The question of how the properties were to be administered as the cultural legacy of one of the greatest directors in the history of cinema sparked off a debate that reached far beyond Sweden's borders.
Bergman had often expressed the wish that these buildings continue to be meeting places for people working within various types of artistic fields, also after his death. His youngest daughter, the author Linn Ullmann, lived on Fårö during her father's illness in spring of 2007. Together with her family, she moved into the house at Ängen in September of the following year, working and looking after the properties.
It was during these long and dark winter evenings on Fårö that Ullman and her writer colleague Brit Bildøen developed a plan for the possible future use of the houses – a plan that would be in keeping with the spirit of Ingmar Bergman and help to maintain Fårö as a vibrant community. The Bergman Estate was to be anything but a museum. Artists and scholars of every kind and from all over the world would come here to work, while the houses would provide an arena for public cultural events, many of them with a special view to the children and young people of Fårö and Gotland.
A busy period followed, dedicated to the effort of finding someone willing to buy the properties and realise the vision of The Bergman Estate. Time had nearly run out, when Norwegian archaeologist and inventor Hans Gude Gudesen became aware of Linn Ullmann's plans for the properties and contacted her. In autumn of 2009, Gudesen bought back nearly all of the personal effects that had been auctioned off at Bukowskis in Stockholm, and soon after his bid for Bergman's houses on Fårö was accepted.
Under the leadership of Linn Ullmann and Brit Bildøen, and in cooperation with a dedicated and enthusiastic Board of Directors, began the important and time-consuming work of developing and formalising what was to become The Ingmar Bergman Estate on Fårö Foundation. Kerstin Brunnberg, a Swedish journalist with extensive experience in the cultural field, was an important early supporter of this effort. Her active involvement with the Board, first as Vice-Chairperson and subsequently as Chair of the Foundation, has been decisive for the project's progress.
In May 2010, Bergman's furnishings and personal belongings were returned to the properties, which had been carefully and tastefully renovated by the owner. Only a few days later, The Bergman Estate on Fårö welcomed its first guests.
For more information about the Bergman Estate, read the initial project outline written by Linn Ullman.