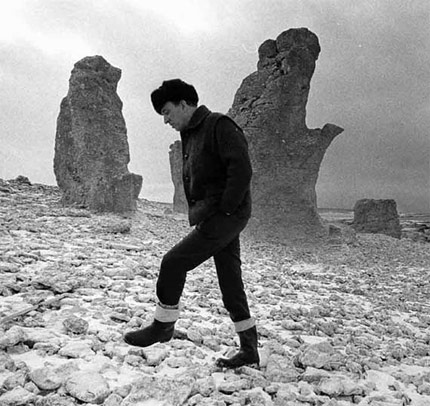 In 1960, Ingmar Bergman was about to make the movie Through a Glass Darkly, a story about four people living on a remote island. Inspired by a documentary he had watched, Bergman wanted to shoot the film on the Scottish Orkney Islands.
The Swedish film production company SF (Svensk Filmindustri) worried about excessive budgets, but Bergman could not find a setting in Sweden that could offer the atmosphere he had in mind. In a last attempt, before trying to pursuade the production company to use the Orkney Islands, Ingmar Bergman went to Fårö. He arrived on a dark and rainy night in April and immediately felt this was his landscape.
Not only did Bergman shoot Through a Glass Darkly (1960) on Fårö, the rugged and distinctive landscape of the island was to become a hallmark of films such as Persona (1966), Shame (1968), A Passion (1969), and the TV series Scenes from a Marriage (1973). In his documentaries Fårödokument (1969) and Fårödokument 1979, Bergman highlighted the depopulation of Fårö and the drastically changing economic conditions for the island's remaining population – from agriculture and fishing to tourism in the summertime.
The landscape and the people of Fårö inspired in Bergman a sense of peace, inspiration, and freedom, as well as an urge to create, work, read, and watch films (he watched two films a day in his private cinema in Dämba).
The relationship between Ingmar Bergman and the locals of Fårö was one of mutual love and respect. The director helped in various ways to preserving Fårö as a vital community, and the residents of the island made sure that he was left alone from prying tourists. For construction, refurbishing, and maintenance, Ingmar Bergman always used local experts and craftsmen, a tradition that will now be continued by the Bergman Estate on Fårö Foundation and the new owner of the property, Hans Gude Gudesen.
"Ceremoniously speaking, you could say that I had found a home, a true home."
Ingmar Bergman on his first encounter with Fårö in 1960
Facts about Fårö
Twice the size of Manhattan (114 km2), Fårö is located northeast of Gotland. The barren and distinctive landscape alternates between dwarfed pine trees and open plains, wetlands, small lakes, and cultivated fields. Several kilometres of sandy beaches can be found at the northern end of the island, while the northwest is home to two nature reserves – Langhammars and Digerhuvud. Fårö has approximately 500 permanent residents, but in the summertime tens of thousands of visitors come to the island.